MacBook Pro, + trip to Chicago and the IMC office combined with a music concert or sports event ticket for the winner +1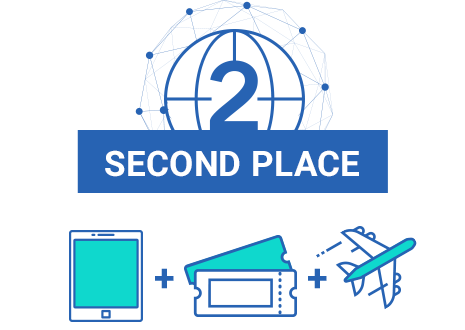 iPad, + trip to Chicago and the IMC office combined with a music concert or sports event ticket for the winner +1
A trip to Chicago and the IMC office combined with a music concert or sports event ticket for the winner
Hi, the challenge has ended.
Challenge rules
The 1st round of the challenge starts Monday, September 3rd at 5 p.m. UTC
The 1st round of the challenge ends Sunday, September 9th at 5 p.m. UTC
The 2nd round of the challenge starts Monday, September 17th at 5:00 p.m. UTC
The 2nd round of the challenge ends Sunday, September 23rd at 5:00 p.m. UTC
All solutions must be submitted before the challenge closes.
The Challenge consists of coding tasks.
Following programming languages will be available during the challenge: C, C#, C++, Go, Java, JavaScript, Objective-C, PHP, Pascal, Perl, Python, Ruby, Scala, Swift or VB.NET
Once you have started the challenge, you have max. 90 minutes to submit your solution.
You can attempt the challenge at most 2 times.
Each subsequent attempt should use the same personal data (name and email).
Each subsequent attempt cancels all previous submissions, so only the last attempt is taken into the account.
After each attempt, you will receive feedback with your score result.
All tasks have to be solved single-handedly. Any cases of plagiarism will result in disqualification.
In case of ambiguity Codility arbiter decision is final.
At least 10% of the participants of the first round passes to the second round.
Terms and Conditions
Every entrant must be 18 or over. Only US residents or people eligible to work in the US are eligible for prizes (excluding F1 visa students). You will be responsible for paying all potential taxes on the prizes. In order to receive the prize, you must provide IMC with a valid and completed W-9 document.
IMC assumes no responsibility or liability whatsoever for any consequences of any use or reliance upon the completeness or correctness of the information contained within the challenge. This challenge is bound by the laws of the State of Illinois.
The staff of IMC or IMC affiliates, the staff of competitors of IMC or IMC affiliates and the organizations that contributed to the development of the challenge are excluded from participation. IMC reserves the right to exclude entrants from participation without giving reasons, particularly in the event of failure to comply with the Terms and Conditions. All tasks have to be solved single-handedly. Any cases of plagiarism will result in disqualification.
Participants are ranked according to their scores. In case of a draw, earliest submission takes precedence.
This page utilises a Facebook Pixel to measure and maximise the effectiveness of this challenge, by submitting your details above you are giving your Consent to the use of this analytics tool in relation to your data. For more information on Facebook Privacy and Pixels see: www.facebook.com/privacy/explanation